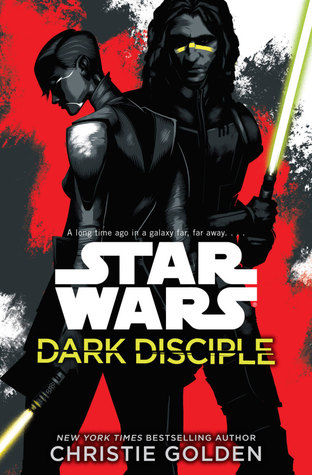 Title: Dark Disciple
Author: Christie Golden (Novel); Katie Lucas, Matt Michnovetz, & Dave Filoni (Original scripts)
Series: Star Wars (Official Canon, The Clone Wars)
Rating: *****
Publisher/Copyright: Del Rey, 2015
New Star Wars! Dark Disciple is based on a collection of scripts from the canceled Clone Wars animated series on Cartoon Network which serve to tie up the story arc featuring Asajj Ventress, Count Dooku's former apprentice.
The galaxy-wide Clone Wars have raged for almost three years, but an end is nowhere in sight. Every Republic victory is matched by a corresponding setback, almost as if both sides were being played by a single entity bent on preserving the stalemate. The Separatist forces led by Count Dooku grow only more ruthless as the war drags on, committing atrocities that haunt the Jedi with their inability to prevent innocent bloodshed until even the Jedi council is ready to consider the unthinkable: assassination. This dangerous mission will forge strange alliances, forcing unorthodox Jedi Master Quinlan Vos to ally with Dooku's former apprentice Asajj Ventress, a deadly assassin holding a grudge against Dooku for betraying her and slaughtering her entire people. Together, Vos and Ventress could just be powerful enough to take out Dooku…if they don't kill each other first.
I have to say, I really enjoyed this one. Towards the end of the animated series Ventress was becoming one of the standout characters, gaining some real depth as she dealt with the consequences of Dooku's betrayal and her private war for revenge. Add Quinlan Vos, one of my favorite characters from the Legends version of the Clone Wars, into the mix and you've got a winning proposition. If you followed the animated series, you owe it to yourself to check this out. If you're a newcomer, you'll probably be fine as well, though most of the references to past events will likely be lost on you. If you're a veteran of the pre-Cartoon Network Clone Wars though…you'll have to come at this with a clean slate. A lot of this, especially Vos's storyline, is territory we've seen before, albeit through the looking glass. I'll refrain from saying more in the interest of spoilers, but those who were reading Star Wars: Republic in the run-up to Revenge Of The Sith should know what I mean.
CONTENT: Some disturbing violence and torture. Mild profanity. Mild flirting/sexual innuendo, but nothing explicit.
This is a longer version of a review I did for the Manhattan Book Review. You can find that here.