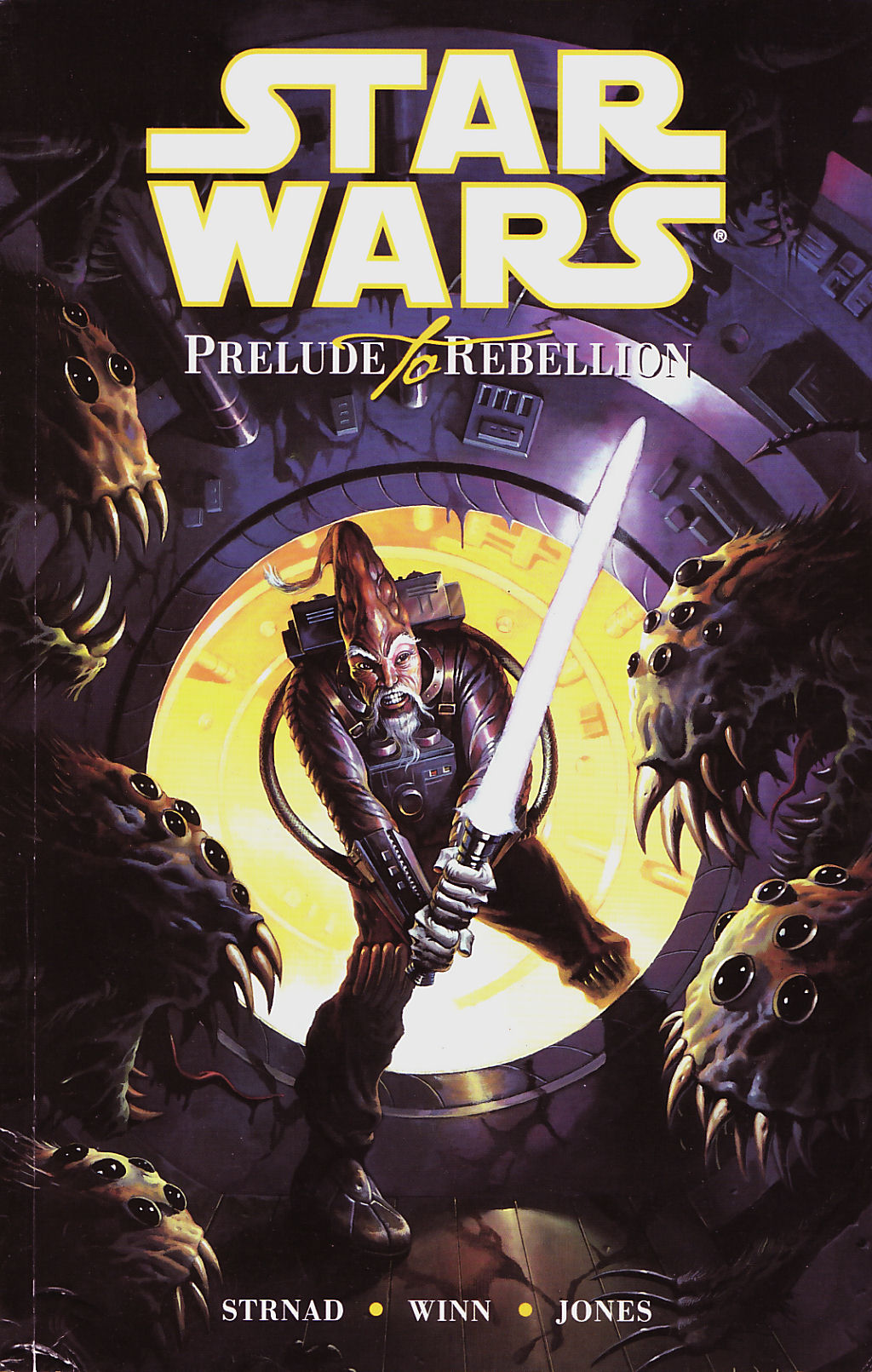 Title: Prelude To Rebellion
Writer: Jan Strnad
Artist: Anthony Winn
Series: Star Wars: Republic Vol. I (Star Wars #1-6)
Rating: ***
Publisher/Copyright: Dark Horse Comics, 2000
Continuing my trek through some of the earlier Star Wars comics, we come to Dark Horse's first ongoing series set in a Galaxy Far, Far Away. Originally simply entitled Star Wars, the series was retitled Star Wars: Republic to avoid confusion when Dark Horse began publishing a second ongoing focused in the era of the Original Trilogy films. For simplicity's sake, I'm going to refer to the series as a whole using the Republic subtitle in these reviews. This story was reprinted in the eponymous trade paperback, which also featured the backup tale Vow Of Justice, and in Star Wars Omnibus: Rise Of The Sith.
Jedi Knight Ki-Adi-Mundi serves as the Jedi protector for his homeworld of Cerea, a relatively primitive world far from the beaten path of interstellar travel. Cerea isn't a member of the galaxy-wide Republic, but there are those who would very much like to change that–open up Cerea as a market for modern technology and exploit its unique natural resources. When violence breaks out at a pro-Republic rally and his daughter is implicated, Ki-Adi-Mundi is sucked into an investigation of smuggling, murder, and conspiracy….
This one was pretty mediocre, and doesn't fit very well with the other stories in the same era. Partially this is a function of this story being the first published in this era, even before The Phantom Menace. When this was released, it wasn't known that Jedi were not allowed to marry. Later the writers were forced to retcon the backstory and explain that Ki-Adi-Mundi was granted an exception to this rule based on his species' low birth rate. While we know the Republic was growing corrupt in its final days, here it appears downright villainous. I don't want to say that this was bad, but it wasn't great–especially compared with some of the later arcs of the same series.
This tale is set one year prior to the events of The Phantom Menace, and occurs simultaneously with Jedi Council: Acts Of War.
CONTENT: Mild violence. Mild profanity. Mild sexual innuendo, including a couple scantily-clad women in Jabba's court.