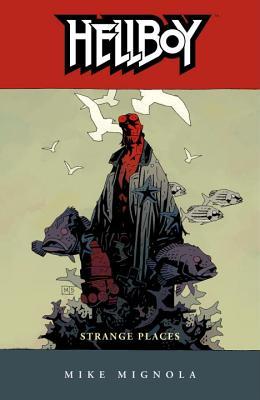 Title: Strange Places
Writer & Artist: Mike Mignola
Series: Hellboy
Rating: ****
Publisher/Copyright: Dark Horse Comics, 2006
"Don't mess with me, lady. I've been drinking with skeletons."
Seriously, how many characters do you know who could deliver that line in all seriousness? Pretty much just Hellboy, which goes quite a ways towards explaining his appeal. The entire series is so….over the top, ridiculous, ambitious….not really sure of the best word to sum it up, but you have to admit it's pretty great. This time around in The Third Wish, Hellboy is pitted against the Bog Roosh, an undersea witch who wishes to save the world….by ending Hellboy once and for all. Sure, Hellboy has rejected his birthright as Anung Un Rama, the Right Hand Of Doom and devoted his life to saving the world, but so long as he exists someone could use the power of his hand to loose the Ogdru Jahad and burn the world. The Bog Roosh would end this threat once and for all. Then, in The Island Hellboy washes up on a forsaken island and is given a lesson in the origins of the world and all things that culminates in his death. Kind of. Maybe. Guess we'll have to wait for the next book to see how that works out.
I won't pretend that I understood everything that happened here, but I don't think you're meant to. Mignola is giving you an inside look at the creation of his world, true, but what is left out is as relevant as what is shown. We'll see where the path Hellboy is set upon leads, I suppose. The book is filled with scattered moments of Hellboy being delightfully himself, and that is most definitely worth the rest of what is undoubtedly one of the darker entries in this series so far.
Content: Minor language, some stylized violence and gore. Little to no sexual content. A fair amount of occult content, however. In Hellboy's world, everything supernatural would seem to exist in….well, not harmony, but a unified worldview. This includes the Christian God and the Devil as well as more Lovecraftian things such as the Ogdru Jahad. God and the Church have power, but there are other things abroad in the world that have power as well and were old long before Christ was born in his manger. Hellboy is brought to Earth from another plane–implied to be Hell–in a dark ritual performed by Grigori Rasputin. He later tries to use Hellboy as the focus of another ritual to free the Ogdru Jahad (similar to H.P. Lovecraft's Great Old Ones) and bring an end to the world as we know it. One of the short tales implies that Hellboy himself is the son of the Devil and a mortal witch. Ghosts, vampires….the Beast of the Apocalypse…..