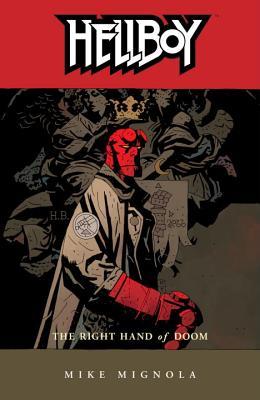 Title: Hellboy Vol. IV: The Right Hand Of Doom
Writer & Artist: Mike Mignola
Series: Hellboy
Rating: *****
Publisher/Copyright: Dark Horse, 2004
As I mentioned ages past, I love Hellboy. And my library finally got another volume! Just a single one, for now, but that's okay. I eagerly devoured it. This volume was another anthology set, collecting a number of shorter pieces along with a couple longer one-off stories. As I stated last time, I think this shorter format really gives the character his best workout… The stories included here are:
Pancakes (New Mexico, 1947). Young Hellboy is a picky eater. This one was done as a joke so that the Dark Horse people would stop asking for stories about young Hellboy. It was a surprising success…
The Nature Of The Beast (England, 1954). Hellboy faces down a dragon in the English countryside. But not all is as it seems…. Apparently this one was knocking about in Mignola's head since he was first created, and he only got around to putting it on paper much later.
King Vold (Norway, 1956). Hellboy goes on a research mission with an old friend of Bruttenholm's. Obviously, things don't go as planned. This particular story was written up specifically for this collection, so that's always fun.
Heads (Kyoto, 1967). Hellboy investigates reports of a haunted house in the Japanese countryside. They prove to be all too true….
Goodbye, Mister Tod (Portland, 1979). Hellboy deals with a medium who, shall we say, ventured a little too far into the open waters of the spiritual realms….
The Varcolac (Yorkshire, 1982). Hellboy tracks down a vampire he's long hunted, only to find a bit more than he bargained for….
The Right Hand Of Doom (Sometime after Wake The Devil). Hellboy meets the son of one of those who most fear him and his potential, and recaps the important story beats thus far….learning a bit more about himself in the process. This is mostly Mignola poking his readers and asking them why they aren't more curious about Hellboy's stone right hand.
Box Full Of Evil (Soon after The Right Hand Of Doom). A troubling burglary leads Hellboy to a cult trying to raise the devil. Well, A devil, anyway….but with such ambitions, what might they do once the Beast of the Apocalypse is within their reach?
Content: Minor language, some stylized violence and gore. Little to no sexual content. A fair amount of occult content, however. In Hellboy's world, everything supernatural would seem to exist in….well, not harmony, but a unified worldview. This includes the Christian God and the Devil as well as more Lovecraftian things such as the Ogdru Jahad. God and the Church have power, but there are other things abroad in the world that have power as well and were old long before Christ was born in his manger. Hellboy is brought to Earth from another plane–implied to be Hell–in a dark ritual performed by Grigori Rasputin. He later tries to use Hellboy as the focus of another ritual to free the Ogdru Jahad (similar to H.P. Lovecraft's Great Old Ones) and bring an end to the world as we know it. One of the short tales implies that Hellboy himself is the son of the Devil and a mortal witch. Ghosts, vampires….the Beast of the Apocalypse…..