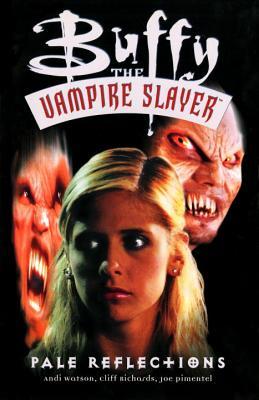 Title: Pale Reflections
Writer: Andi Watson
Artist: Cliff Richards
Series: Buffy The Vampire Slayer (Buffy The Vampire Slayer #17-19)
Rating: *****
Publisher/Copyright: Dark Horse Comics, 2000
Here we go! The conclusion to the Bad Blood storyline began here and here. I have to say, despite a couple of rough patches in the middle there, it's been a fun ride. It was mostly good to see the book get away from the "villain of the week" format and do a longer-running villain, even if it maybe stretched a bit in the middle unnecessarily. This conclusion, though, was absolutely top-notch. These three issues can be found collected either here or in Buffy The Vampire Slayer Omnibus Volume IV.
These three issues are titled as if they're two separate stories, with the first two going under the title She's No Lady and the last being entitled Old Friend, but that's not really accurate. These three issues are clearly a single unit, and I'll discuss them that way. The Scoobies have been tasked by Principal Snyder with preparing a float to represent the school during Mardi Gras, (Which apparently is also celebrated in Sunnydale? Who knew?) which is taking a good deal of time away from the search for the origin of the super-vamps. Meanwhile, Selke and her pet doctor have managed to magic together an evil doppelganger of Buffy. Yep, things are heading for a showdown….
On the whole, this was great. The writing was back on top, and mostly there were no loose threads left hanging around. Spike & Dru show up again at the very end, but I suspect that that's a seed for a future story rather than sheer randomness. The art was likewise stellar, and I think Cliff Richards has finally hit his stride. Chronologically, this happens soon after the previous story/soon after Buffy S03E11: Gingerbread.
CONTENT: No profanity that I can recall. Vampire violence consistent with the Buffy television show. Some mild sexual innuendo…. Buffyverse vampires could be considered occultic due to their demonic nature, but it didn't bug me.