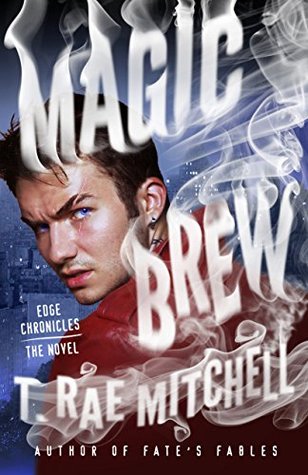 Title: Magic Brew
Author: T. Rae Mitchell
Series: The Edge Chronicles
Rating: *****
Publisher/Copyright: Original Mix Media, 2015
Alright, let's get one thing out of the way up front. Yes, this is an Urban Fantasy version of The Warriors. If you can't get past that idea, this book isn't for you. Everyone else, you're in for a treat.
Even in a city overrun with supernatural creatures, Edge is special. While elves, demons, vampires, were-whatevers and the Fae are a dime a dozen, Edge is the only Djinn in New York City. Well, half-Djinn anyway, which means the Forsaken are the only family he knows. The Forsaken take in the rejects and the half-breeds of the city, those not good enough for the purebloods that run the other gangs. They have power beyond imagining, but also their share of weaknesses—both physical and emotional. And when they are betrayed by the one man they've trusted above all others and lured into a trap, the journey back to their home turf may be the death of every last ­­one of them….
Like I said, this one was a pleasure. The world created here is imaginative and engaging enough to make it well worth overlooking the recycled plot, and every single character you meet is a fully-rendered person with their own personality, strengths, weaknesses, and desires. There's Edge, obviously, half Djinn and half mystery, reeling from having his entire world pulled down around his ears. There's Pandora, Nyx and India, three half-pixie sisters dealing with the effects of their other halves. Pandora is half Chaos demon, killing anyone who hears her voice. India is half succubus, driving everyone who enters her bar mad with desire just by looking at them. And Nyx is half Shadow elf, able to disappear and move unseen through shadows. Then you have Justice, half cherub and half Chinese Mogwai demon. I know, I thought the same thing…."You mean an angel came down here and ****ed that creature from Gremlins?" Turns out Mogwai is a generic Chinese word for demon, so that makes more sense. Less funny though. You care about every one of them. This matters, because as the body count climbs you feel each casualty as acutely as the survivors. Bottom line: if you're a fan of Urban Fantasy (or The Warriors, for that matter) I cannot recommend this highly enough.
CONTENT: Strong violence. Some R-rated language. Strong sexual innuendo. Various occultic topics such as demons and magic, handled as fantasy.