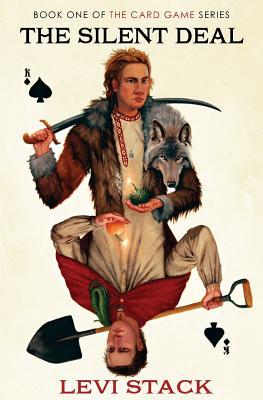 Title: The Silent Deal
Author: Levi Stack
Series: The Card Game #1
Rating: *****
Publisher/Copyright: Amazon, 2013
I've mentioned before the thrill of finding a gem when sifting through the sludge of most self-published work. Once again, I present an excellent debut novel! This time we have The Silent Deal, a nominally (but not restrictively) YA adventure set in the back-country of 1840s Russia. In the interest of full disclosure, I received a digital copy from the author after failing to win a FirstReads giveaway. If you're interested, this first book in the series is currently available for free on your Kindle from Amazon here.
There's something wrong with the village of Aryk. Everyone knows it, but no one will talk about it. Strangers exchange knowing glances in the street. Adults clam up as soon as youth enter the room, awkwardly changing the subject and pretending that there's not an air of impenetrable mystery hanging over the small Russian hamlet. Then there's the Brass Art, cryptic graffiti plastered over the walls of abandoned alleyways in clear violation of the law yet never cleaned up. Viktor is haunted by the mystery, ever since he saw a man hanged for the capital offense of carrying a playing card. Allying himself with Romulus, a mysterious lad who knows the surrounding forest like the back of his hand and who harbors countless mysteries of his own, Viktor is determined to find out just what happened in Aryk before they were born. What could be so dangerous about a playing card? Viktor and Romulus are about to find out….
As I mentioned above, I really enjoyed this one. The pace was perhaps a bit leisurely at the outset, but that changed quickly. While I had no trouble putting the book down and hitting the hay at a reasonable hour when I started, by the end I was staying up way past when I had planned in an effort to find out what happened next. The resolution wrapped up enough of the mysteries to be satisfying, yet also managed to leave a number of loose threads still hanging to bug you until you get your hands on the sequel. There are still a few elements that might annoy some of my pickier brethren, but on the whole I managed to forgive these scattered potential issues. Classifying this by genre is a bit hard, as after a heavily fantastical opening the book helms hard back into straight historical fiction (or, more accurately, straight fiction in a historical setting)….but the fantastic creeps back in, almost without your noticing it. Surely Gypsy fortune telling is all rubbish….but what if it's not? And what on Earth is going on inside the walls of the imposing Staryi Castle? Had Mr. Stack not otherwise proven to be a master of his craft, I would suspect the opening to be an artifact from a previous draft, but his otherwise-excellent writing and the knowledge that all is not as it seems with the character in question leads me to believe instead that this is seeding plot elements for the sequel. Throughout the book characters look at evidence and draw conclusions in their attempt to solve the mystery of Aryk's past. All well and good, except that a number of these conclusions are wrong…and at the time left me scratching my head wondering what they saw that I didn't, because their assumptions were not at all what I was getting from the evidence. This leads to a sequence that can only be described as a villainous monologue as one of the "big bads" sets straight all their misconceptions about what went on in their town all those years ago. In Mr. Stack's defense, this was far from your usual "Bond villain explains the plan instead of just finishing off the hero" moment, and the villain in question was far more intent on taunting our heroes in order to break their concentration and resolve their current standoff in his favor, but I can see where some of my fellows are (rightfully, in most cases) annoyed with such a device. In most cases, it's a storytelling crutch. Here? It may still be a crutch, but Mr. Stack's storytelling proves pretty nimble regardless.
CONTENT: Mild profanity. Mild sexual innuendo, mostly just flirting. Some violence, ranging from schoolyard scuffles to more lethal and terrifying encounters. Gypsy magic such as fortune telling could be considered occultic, depending on one's views.