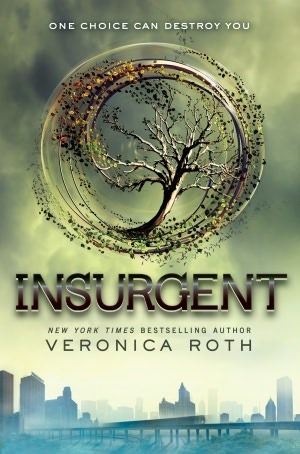 Title: Insurgent
Author: Veronica Roth
Series: Divergent #2
Rating: ****
Publisher/Copyright: Katherine Tegen, 2012
I've decided I need to be more focused when I read a series. I've always tried to not binge, but that's obviously not working–I never finish! So here we go. Insurgent! Plus, the movie's coming soon, and I know I'm going to get pulled in to see that with my wife and/or my sister….can't see it 'til you read it, after all….Oh, and since this is the second book in the trilogy, it's bound to be a bit spoilery for the first novel. If you've not read the first one yet, you've been warned.
Insurgent picks up right where Divergent left off. The faction system is shattered, teetering on the brink of collapse due to the unprecedented attack led by Erudite against the Abnegation. Erudite stands powerful, maintaining a position of strength after seizing control of the city. Abnegation is almost nonexistent, most of its leaders and citizens slaughtered. Dauntless is fractured, split between those allied with Erudite and those in revolt, horrified at having been manipulated into committing genocide. Amity stands aloof, offering a safe haven for refugees of the attack, while Candor stands undecided. But there is a sixth group that no one has considered yet, and they may hold the key to everyone's future in this troubled city. Can Tris and her friends trust the Factionless? And regardless of the answer to that question….do they really have a choice?
I stated before, in my review of Divergent, that I thought this trilogy was far superior to The Hunger Games for a variety of reasons. I still hold that opinion, and I don't think it's likely to change despite my sister's allusions to her "ocean of tears" after finishing the last book. The writing continues to flow almost effortlessly from cliffhanger to cliffhanger, and while I'm admittedly unlikely to give these a second read-through (I only do that if I really like a book) I have to admit to an incredibly reluctance to stop reading once I've started. Tris is a bit less emotionally stable this time around, and I can see where some people get annoyed at that, but I think it's only natural for the character. She just watched most of the people she grew up with get massacred, her parents both sacrificed themselves to save her (a sacrifice she feels deeply unworthy of), and she was forced to shoot one of her closest friends in the face when he tried to kill her while under simulation control. I think her emotional breakdown is warranted, and while I don't like whinyness in a narrator, I think I would find her character less believable if she didn't break down occasionally. And believably, overwhelmingly human characters is something that Ms. Roth does incredibly well. There are a couple characters who are just outright slime (Eric, for example), but most of the villains are operating from a desire to serve the greater good…as they see it, and regardless of the cost. That element in particular is highlighted in this book, as we get more insight into just what the heck went down to cause the Erudite coup. I'll not get too lost in rambling, except to say that any lingering qualms I had about the premise of the trilogy after the first book (and there weren't many) have been laid to rest.
CONTENT: Brief R-rated language (I think, I don't actually remember any, but the first one had some….) Strong, occasionally gruesome violence and its aftermath. Mild sexual innuendo and flirting, but nothing too explicit.