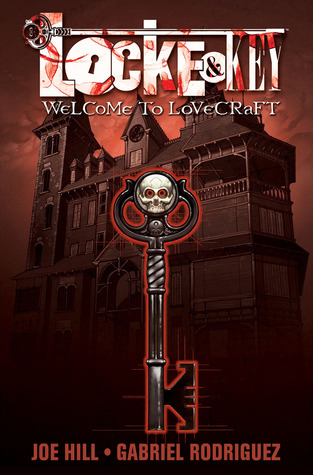 Title: Welcome To Lovecraft
Writer: Joe Hill
Artist: Gabriel Rodriguez
Series: Locke & Key (Volume I, Issues #1-6)
Rating: *****
Publisher/Copyright: IDW, 2008
I think I might be a fan of Joe Hill. You may recall a month ago I read and reviewed Horns, and now I've read Mr. Hill's first foray into the world of comics: Welcome To Lovecraft, the first volume in a new series. Put simply: I'm hooked. I've always been fascinated by tales of ancient houses with hidden secrets, all the way back to one of the first Boxcar Children books I read when I was but a wee lad, and Locke & Key has enough secrets to keep Mr. Hill busy for quite a while. I very much look forward to seeing where this goes….
They say that when it rains, it pours. It's certainly been pouring on the Lockes recently, but things may be looking up. Their father was murdered by a couple of psychotic former students, but now they have a whole new life on the other side of the country. They and their mother have moved in with their uncle at Lovecraft Manor, nicknamed the Keyhouse, a massive estate on an island in Massachusetts with more secrets than the CIA. Tyler, Kinsey and Bode are all dealing with their grief in different ways. Tyler is considering suicide, weighed down by the guilt of multiple fights and a particular conversation with the would-be murderer. His sister Kinsey is just trying to stay under the radar while she comes to terms with what happened. Little brother Bode has poured all his energy into exploring their new home, including its magical elements. Their mother has turned to drink to drown the grief. The last thing they need is more trouble, but that may not be in the cards when word comes that the murderer has escaped custody and is leaving a trail of bodies across the country….
Like I said, I'm hooked. I appreciate when a writer trusts his audience enough to put the pieces together themselves, and there are more than enough disjointed pieces here to keep you guessing. Is it initially confusing? Yes, a bit. But the mysteries are introduced gradually, and most of them should make sense by the end of the volume. There are, of course, others that remain unresolved for the moment as seeds for future stories, but that's to be expected. In truth, there are two stories being explored here. There's the modern story of the Locke children, and the older story you have to piece together from clues concerning the childhood of their parents. The art is perhaps not my favorite style, but I have to say that it works really well for this particular title. I honestly can't wait to pick up the next title from the library….
CONTENT: Some sexual innuendo, nothing too explicit and no nudity. R-rated language. Strong, gory violence. I don't know if I would classify the magic here as occult, but some might. Basically, there are a bunch of keys that fit the different doors of the mansion and that allow magical travel or transformations. One lets you go anywhere. Another lets you change sexes. Still another turns you into a ghost, lets you travel outside your body for a while. There are others, but those are the ones we've seen so far…..