T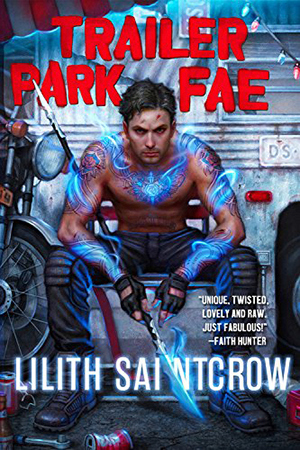 itle: Trailer Park Fae
Author: Lilith Saintcrow
Series: Gallow and Ragged  #1
Rating: ****
Publisher/Copyright: Orbit, 2015
As we've established, I'm a sucker for urban fantasy. This book was no different, even as it expanded my boundaries a bit. The Fae play a role in the Dresden Files, but this was my first time with something Fae-centric. Gotta say, I can't wait for the next book in this series to come out, and I think I might look up more of Ms. Saintcrow's work.
To all appearances, Jeremiah Gallow is just a simple construction worker down on his luck, and that's just what he wants you to think. Formerly the half-human armormaster for the Queen of Summer, Jeremiah walked away from the world of the Fae years ago for the love of a mortal woman. It's been five years since his beloved Daisy was killed in a freak car accident, but Jeremiah has no intention of returning to the world of the fickle Fae….until a Faery damsel in distress looking strikingly like his dead wife crosses his path and embroils him once more in the ever-shifting politics of Faery.
This was an incredibly fascinating book, and I loved every minute of it. It is not, however, always an easy read. The prose is beautiful, faintly echoing Shakespeare's Faery, but like the bard it can get distractingly convoluted at times. I didn't mind, it just means that if you're planning to read this you might have to work a little on occasion. On a related note, there is almost zero outright info-dumping, so if you're unfamiliar with legends of the Fae you might find yourself a bit off balance on occasion. You can usually pick stuff up from the context, but again, that takes a bit of work. There's a brief glossary at the back of the book for Faery terms, very useful for connecting Saintcrow's archaic (and I presume faithfully ancient) spelling. The book is pretty dark, without the splash of snark and wit that I've grown accustomed to in my urban fantasy, but that's not so much a fault in the book as it is a problem with my expectations. The plot takes a little while to really get going, largely because so much time is spent establishing the characters, but that extra work definitely pays off and once the plot builds up a head of steam the twists come fast and furious. Some I saw coming, others blindsided me. Bottom line: I absolutely cannot wait for the next book so I can meet up with these characters once again.
CONTENT: Occasional R-rated language. Some frank if not outright-explicit sexual content and discussion. Strong violence, often disturbing. Rampant magic, though I wouldn't quite deem it occultic.
This is a longer version of a review I wrote for the Manhattan Book Review.