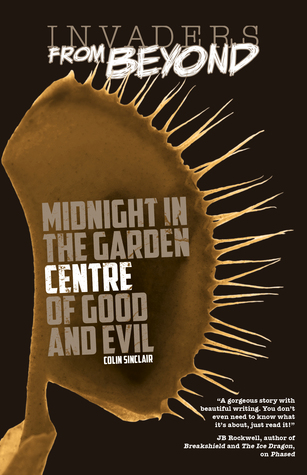 Title: Midnight In The Garden Centre Of Good And Evil
Author: Colin Sinclair
Series: Invaders From Beyond
Rating: ****
Publisher/Copyright: Solaris, 2015
This is not how it was supposed to work. A couple months ago, Miller was knee-deep in a graduate degree studying agricultural science. Now, after a bender left him and his future father-in-law's car upside down in a lake, he finds himself without a fiancé and cut off by his parents to find his own way in the world, working a dead-end job at a garden centre in the middle of nowhere alongside an eclectic crew of fellow misfits. Then just as Miller adjusts to his new life, starts to think the future might not be so bleak after all, that's when the aliens show up….
Midnight In The Garden Centre Of Good And Evil is a very British book in its language and vocabulary. That's not a bad thing, to my mind, but is something to know going in. Not everyone watches as much Sherlock and Doctor Who as I do. Equal parts comedy and horror, the book demands comparison with Shaun Of The Dead, possibly crossed with Kevin Smith's Clerks (I can't say for sure, not having seen that one). It's a quick read, and I managed most of it at a single sitting–the last two-thirds, to be precise. While not bad, it didn't really suck me in until that point. The only real complaint I had with the book is how much information is left obscure, lost between the lines. While Brackett's establishment is undeniably shady, it took most of the book for me to connect the various offhand hints and realize that its real income is dependent on the marijuana being grown in the basement tunnels. (Admittedly, this may have had something to do with my own lack of experience with that particular plant beyond the requisite stoner characters in various films.) Plus, you never do find out Miller's first name so far as I can find looking back. It's not a big deal, given the first-person narration, but serves to illustrate my point. Anyway, if you're looking for an irreverent comedy-horror combo, this just might be the book for you.
CONTENT: R-rated profanity. Strong horror violence, occasionally gruesome. Moderate sexual innuendo, mostly in the form of crude jokes made by one or more of Miller's coworkers.