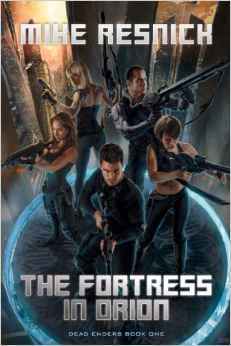 Title: The Fortress In Orion
Author: Mike Resnick
Series: Dead Enders #1 (The Birthright Universe)
Rating: ***
Publisher/Copyright: Pyr, 2014
As some of you may know, I review for the San Francisco/Manhattan Book Review in exchange for free books. I'm usually careful not to inadvertently get myself dropped into the middle of a new series. Then I requested The Prison In Antares, not realizing it was book two in a new series. So I hastily tracked down The Fortress In Orion to catch up before I set in. Now I find out that everything Resnick has ever written is set in the same universe! (Okay, just most of it.) I've got a lot of reading to do….
The (mostly) human Democracy is at war with the alien Transkei Coalition, fighting a war that they may not be able to win. Colonel Nathan Pretorius is the Democracy's go-to man for crazy, impossible missions…when those missions haven't left him in the hospital growing a new spleen. This next mission? This one is going to top them all…. The Democracy has managed to clone a replacement for General Michkag, the top Transkei commander. Its up to Nathan and whatever fools he can convince to follow him to capture if possible, kill if necessary, the real Michkag and leave the friendly one in his place to try and bring the war to a peaceful conclusion. The odds of this mission ending in death for the entire team? Not worth thinking about. Failure isn't an option. Pretorius and his Dead Enders are just going to have to find a way to infiltrate The Fortress In Orion….
This one…this one has me conflicted. I really liked the characters, every one of them felt well-realized and interesting. The setup was good, and had the potential to be a great story. But you know what you need for a great story? There's this literary device called Things Going Wrong. You see, its just not interesting when everything goes to plan and the good guys carry off their allegedly difficult, nay, impossible mission without a hitch or casualty. Its far more interesting when the crap hits the fan and everything goes wrong but they somehow manage to squeak out victory anyway. Unfortunately, that's not what happens here. Occasionally a wrench gets thrown into the works, just for flavor, but since Pretorius is following a careful plan of winging it anyway that never seems to matter. Something went wrong? Give me three pages and I'll turn it to my advantage. There's never any real danger or tension, despite everyone saying how dangerous everything is. I'm not giving up on Resnick, his reputation is too shiny for one book to tarnish, and I'm obligated to read the sequel anyways, but I will admit this was a disappointment. On the other hand, he managed to keep things moving along at such a clip that I didn't quite notice until the ride was over that there was never any real danger. The tongue-in-cheek tone was also pretty great.
CONTENT: R-rated language, not gratuitous. Mild sexual innuendo. Occasional violence, sometimes disturbing.