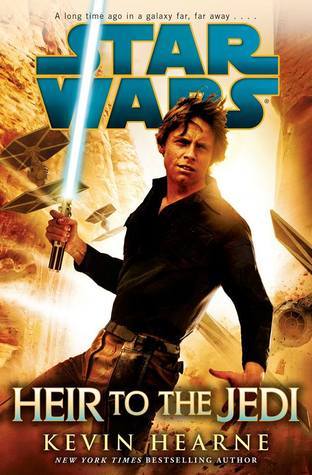 Title: Heir To The Jedi
Author: Kevin Hearne
Series: Star Wars (Rebooted canon, though it would fit equally well with the Legends stuff)
Rating: *****
Publisher/Copyright: Del Rey, 2015
Who's up for more adventures in that Galaxy Far, Far Away? I know I always am! Heir To The Jedi has the honor of being the first novel in the newly rebooted canon to feature one of the "main three" characters from the films, as Tarkin was focused on that stellar baddie and A New Dawn was busy setting up the Star Wars: Rebels television series. The funny thing is, this still fits perfectly well with the older canon, which isn't surprising since it was ordered before the cut. In fact, it was originally supposed to close out the Empire And Rebellion so-called trilogy, now a duology with the omission of this volume. The series isn't really hurt by this though–the stories bore no relation to each other, and were a trilogy only by virtue of theme: first-person narratives, each focusing on one of the "big three" characters. As far as I'm concerned, this can "count" for both universes, both the official one overseen by the Lucasfilm Story Group and the more tumultuous "Legends" canon that came before.
The Death Star has been destroyed, but the Empire lives on. Though they've bloodied the Empire's nose, the Rebel Alliance finds itself in an extremely tenuous situation, on the run and strapped for cash. The Empire has them outnumbered and outgunned in nearly every way, leaving the Alliance desperate for any advantage they can muster. So when word comes that a brilliant cryptographer under Imperial "protection" would like to defect, they have little room to refuse. Luke hasn't had much time to train with the Force–in fact, without Ben around to train him, he has absolutely no idea what he's doing–but he's still one of the best pilots in the Rebellion. Alongside Nakari Kelen, newly-recruited Rebel and a crack shot with her slugthrower, Luke is dispatched to an alien world to stage a rescue under the very nose of the Empire….
There are a lot of terms I could use to describe this particular adventure, but I think the best one to pick would be "fun." Remember the sense of unadulterated adventure you felt watching the original films for the first time? That's what you get with this book, minus the whining Luke does through most of the first movie. That callow youth who yearned for something, anything to take him away from the sun-scorched sands of Tatooine is gone, sobered by the loss of friends both new and old. In his place stands an awkward young man just beginning to understand his place in the galaxy, conscious of his connection to the mystical Force but unsure how to proceed with learning to tap into it. No longer the boy he was, not yet the man he will become, this is Luke Skywalker at a crossroads, and anything can happen next….Or, you know, not. Because while this is all new territory, it was conceived before the reboot came down. Even leaving that aside, we know what the status quo is at the beginning of Empire. The game isn't going to be changed by this book. But that's okay. There are still things to be learned here. We can watch Luke take his first solo steps towards realizing his fate as a Jedi, cringe at his awkwardness with the entire field of romance, and cry with him when that romance proves doomed.* For the first time, we can really get inside Luke's head as he narrates the entire adventure in the first-person POV. And who knew? His internal dialogue is remarkably entertaining! Bottom line, this is Star Wars at its best, as you remember it. I heartily recommend picking this one up.
As for when this happens, the closest I can nail it down is "shortly after" Star Wars IV: A New Hope. I'd say at least a couple months later, probably not more than a year. It's pretty vague.
CONTENT: Mild profanity, mostly fictional. I don't actually recall any whatsoever, but there's usually a little bit. Some violence, usually not too disturbing. Some flirting, but no real sexual content.
*That's not a spoiler–Luke is single at the beginning of Empire, so any romance set before that is doomed….