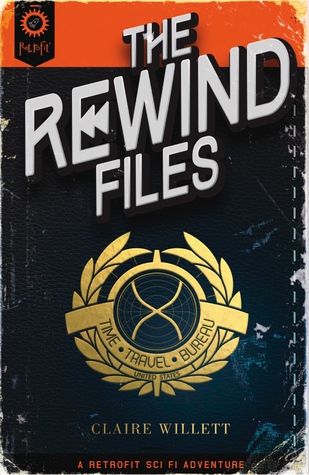 Title: The Rewind Files
Author: Claire Willett
Rating: *****
Publisher/Copyright: Retrofit Publishing, 2015
Time travel stories are the bomb, especially when they're done well. On that note, you should read this one.
Sometime in the twenty-second century, humanity discovered time travel. Predictably, we set out to undo a lot of history's more appalling moments. Also predictably, this was a horrible idea. History unraveled, and thus was born the Agency responsible for fixing the timeline. Regina Bellows is perfectly happy being a desk jockey, staying safely in the twenty-second century and watching operations in the late twentieth through her instruments as field agents patch various decaying points in the timeline…until she discovers evidence of a conspiracy deliberately manipulating the timeline for their own ends. Soon she's on her own, back in the twentieth century, trying to figure out just what's so important about Richard Nixon, arguably the most boring President our country's ever had….
This was fun. If you're at all a history buff, you really ought to read this. Obviously a basic working knowledge of mid-20th century American history would benefit you in understanding what's going on and where the timelines are differing, but at a pinch anything you need to know can be gleaned from a quick trip to Wikipedia. The book was painstakingly researched, and that degree of care is obvious in all elements of the story. The plot keeps you moving at all times, and there were only a couple points where I saw the next twist coming. Even then, it was a matter of outsmarting the characters, seeing a consequence to their actions that didn't occur to them at the time. The time travel mechanic is consistently applied all the way through, with only one minor potential plot hole that occurred to me later—something that could probably be explained away fairly easily, but wasn't actually addressed. My only real complaint is that as a fan of Reagan I was slightly offended by the characterization of his alternate-history self as a warmonger and corporate stooge. For a debut novel, that's impressive. I would heartily recommend giving this one a read.
CONTENT: Brief R-rated profanity, most of the book falls in the PG-13 range. Mild violence. Mild sexual innuendo.