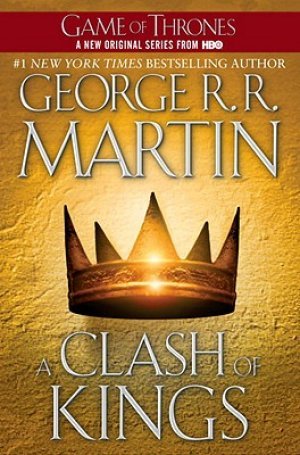 Title: A Clash Of Kings
Author: George R.R. Martin
Series: A Song Of Ice And Fire, Volume II
Rating: *****
Publisher/Copyright: Bantam, 2002
In case you couldn't tell, I'm absolutely sold on this series. I'm not sure what I'm going to do when I hit the end of what's been published so far…join the poor souls clamoring for The Winds Of Winter, I suppose. Obviously, this is going to contain MAJOR spoilers for A Game Of Thrones, the first book in the series. You've been warned!
Westeros is in chaos! King Robert Baratheon is dead, slain by a boar in a tragic case of "hunting while intoxicated." Robert's young son Joffrey now sits upon the Iron Throne, advised by his mother Cersei Lannister. What few know is that Joffrey is actually the illegitimate offspring of Cersei's incestuous liaisons with her twin brother Jaime. Robert's Hand, Eddard "Ned" Stark, discovered this deadly secret, thus sealing his own fate as well as that of his king. Cersei made sure her hated husband was well-supplied with his favorite wine before heading out to hunt the boar that would kill him, and Joffrey ordered Stark's head struck off in punishment for his failed attempt to place Robert's brother (and legitimate heir, given Joffrey's true parentage) on the throne. Tyrion Lannister has been sent to serve as Joffrey's Hand, much to Cersei's annoyance, and he'll have his work cut out for him. Both of Robert's brothers have taken the opportunity to declare themselves the true king, Stannis by right of birth and Renly by right of arms. Sadly, they stand a much thinner chance of success opposed to one another than if they teamed up…. In the North, Robb Stark's bannermen have declared themselves free of the Iron Throne and placed a crown on their lord's head. A string of brilliant victories has left them with a strong bargaining position and a valuable hostage: Jaime Lannister. Sansa Stark is stuck in King's Landing, at the mercy of the cruelty of Cersei and Joffrey. Fortunately (or unfortunately, depending on how you look at it) her naivete was stolen when her father's head left his shoulders. Now she plays the meek and obedient prisoner, all the while praying for an opening to escape the hell she's stuck in. Arya Stark has successfully avoided her sister's fate, posing as a boy and falling in with a train of recruits heading north to the Wall–a road that leads right past Winterfell…after wending its way through the thickest of the fighting that's engulfed the Seven Kingdoms. Meanwhile, Jon Snow joins a massive force ranging beyond the Wall to search for news of his missing uncle…as well as insight into the return of the Others, ghastly frozen wights thought to be the stuff of legend. Across the sea, Daenerys Targaryen has assumed leadership of her dead husband's Khal, her followers awed by the three dragons birthed from Drogo's pyre. But despite their devotion, the fact remains that they are weak. They are in no condition to face any of the rival Khals that roam the Dothraki Sea, let alone reclaim Westeros….
Martin's prose continues to be top-notch, keeping you enthralled with the world he's weaving even as you're disgusted at the horrific events that are unfolding before your eyes. Various characters continue to prove just as unreliable in their assumptions as in the first book, and Martin seems to delight in working the narrative equivalent of "negative space"–the important information is often what's NOT being said. It's refreshing to see an author who respects his audience's ability to work things out on their own. Tyrion Lannister and Jon Snow remain hands-down favorites, while Daenerys and Bran continue to grow on me. As winter approaches and Danaerys's dragons grow, magic slowly flows back into the world in subtle ways, but this remains primarily a historical fantasy at this point. If you can stomach the brutal world Martin is creating here, I can't urge you strongly enough to join me. Apparently it only gets better from here….
CONTENT: R-rated profanity, not gratuitous, but not rare either. Rampant, disturbing violence, from hangings and decapitations to occasionally more grotesque fates–flaying comes up occasionally, though we don't actually "see" that happen. There's not-infrequent reference to torture though. Again, a fair amount of sexual content, including topics such as incest, rape, underage sex, and prostitution. Not really rendered in gratuitous detail, but often frankly and/or crudely discussed. Also, occultic elements begin to creep in here. Beyond the fantasy-based magic of wights and dragons, we get a guild of pyromancers whose power is waxing again for reasons they can't seem to figure out ("Our spells haven't worked this well since the time of the dragons!") and a priestess of a foreign god with the power to strike men down with shadows.