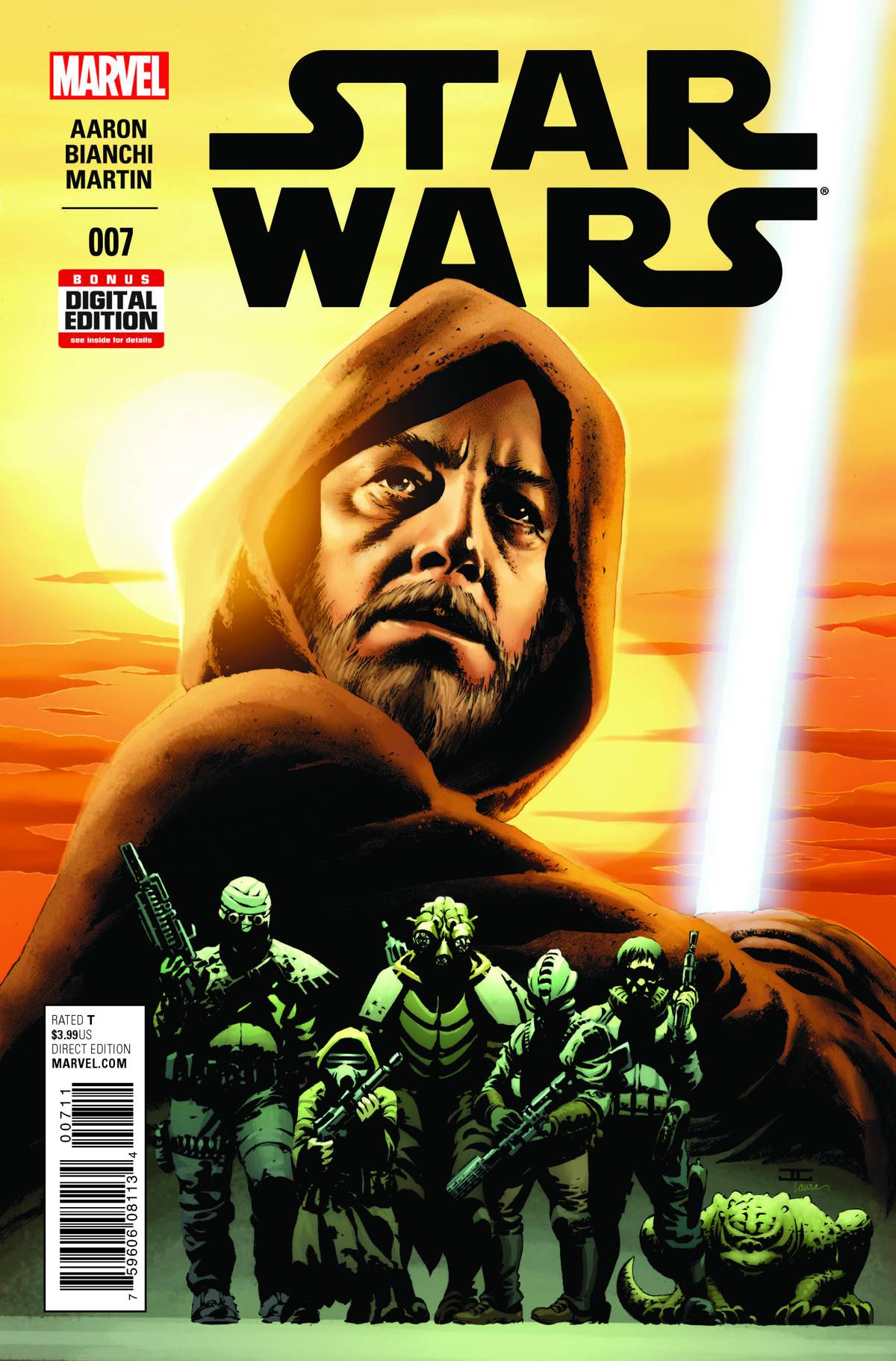 Title: The Last Of His Breed: From The Journals Of Old Ben Kenobi
Writer: Jason Aaron
Artist: Simone Bianchi
Series: Star Wars #7 (Official Canon)
Rating: *****
Publisher/Copyright: Marvel Comics, 2015
Back to the Marvel ongoings! This is a one-off flashback story featuring Obi-Wan Kenobi as he tries to adjust to his "Old Ben" persona about eleven years before the events of A New Hope. It's issue #7 of Marvel's current Star Wars ongoing, and will be collected in Star Wars Vol. II: Showdown On The Smuggler's Moon.
It's been seven years since the rise of the Empire, seven years since the death of the Jedi and the Republic. Formerly one of the greatest Jedi of his generation, now Obi-Wan Kenobi lives a life of obscurity on the desert planet of Tatooine. Where once he protected the innocent of the galaxy, now "Old Ben" forces himself to look the other way lest he draw the Empire's notice as Jabba's thugs extort water from the locals. All that matters is protecting the boy, Luke Skywalker, on whose unknowing shoulders rest the fate of the galaxy. But there are limits to the patience of even the greatest of Jedi….
This was a good one. The story was solid, and it's always interesting to see Obi-Wan's state of mind during his exile. Was this done better in John Jackson Miller's Kenobi? Yes. That goes without saying, if only because he had more than twenty-four pages to tell his story. At any rate, Kenobi isn't canon anymore, so we'll not dwell on it. Simone Bianchi's art here was stellar, I must say, and his Kenobi managed to blend Ewan McGregor and Alec Guinness superbly. I would very much like to see more of these one-off excerpts from Obi-Wan's journal appear in future issues of the comic.
CONTENT: Mild profanity. Mild violence. No sexual content.